Chapter Sixteen – 2012-2019
On New Year's Day 2012, I flew to Darwin to join Holland America's cruise ship Zaandam, sailing to Singapore via Komodo Island (there be dragons!), Bali and Java. Back home in time for Australia Day at Canterbury-Hurlstone Park RSL Club, I had enlisted Nicki Gillis, Glenn Skarratt and Bill Kezelos to join me for an afternoon of homegrown music in front of a packed crowd. Days later I was off to New Zealand again, on the Regent Seven Seas Voyager.
In February I had the unique experience of appearing at the Barham Country Music Stampede. This was a regular four-day festival held inside the Barham Services Club (now renamed cluBarham) and on Thursday 23rd the proceedings began with Wayne Horsburgh, Greg Hooper and myself performing Love That Country Music in concert, which was a hugely successful night. The next day, the boys left me behind, as I was scheduled to perform the next three days as one of the many guest artists, who also included Tom Routledge, The Hoffmans, Hank Sasaki and Rod Williams.
I was booked to do 4 x thirty-minute sets a day – two of them solo in the Coffee Shop during the daytimes, and two at night in the auditorium with the backing band called Denva. They were guitarist Kerran Keats, drummer Billy Arnold and on bass, Karan Johns who I knew from the Deniese Morrison band and The Barstuds. The challenge was to repeat as few of the songs as possible over the weekend and I was pleased to have managed that quite well. On the Monday I caught the early morning coach service to Melbourne, but jumped off along the way to enjoy lunch in a country village bakery with my friend Donna Fisk, who then drove me to the airport.  
2012 would be my busiest year at sea and things started to get hectic. I disembarked from the Royal Caribbean Radiance and was due to fly home to Sydney from Wellington in time to attend the 12th Annual A.C.E. Awards that night, but the weather had a different plan. The fog rolled in and all planes were grounded. To compound the problem, there were sporting events and conventions in the city that meant all the accommodation was booked out. I ended up trying to sleep on an airport bench, eventually spending 22 hours there before I could get a flight. By then, I only had 16 hours in Sydney before I was back in the air, this time headed for Tahiti to join the Holland America ship, the Rotterdam.
For the next three weeks it would sail to San Diego where it started a new journey via the coast of Mexico. That is where I spent Easter, en route to Guatemala City in Central America. From there it was a 30-hour journey home (Guatemala-Houston-Los Angeles-Sydney). I had insisted on coming back before the next two trips so that I could be with my Mum for her 80th birthday. Three days later I was on my way to Fiji where the Volendam would take me on to Hawaii. Once there, finally a moment to catch my breath as I stopped in Honolulu for three days waiting for the Oosterdam to arrive and take me to Vancouver B.C. in western Canada.
Over a period of nine months, I had performed on 15 cruises, prompting this headline by writer Susan Jarvis in the September issue of Country Music Capital News magazine…
At the end of the previous year, I had spent an enjoyable few hours at the Sugar Kane Music studio in Sydney with producers John Kane (who I had known since his days in the country/bluegrass band Flying Emus) and Mark Walmsley. John and Mark created a series of themed albums for the ABC Music label and the latest was called Big Rock Candy Mountain, subtitled 'The Greatest American Folk Songs'. Vocals were by the wonderful Catherine Britt (pictured above) who was now living back in Australia, and actor/singer Jay Laga'aia. John and Mark played a multitude of instruments, joined by Ian Simpson on banjo and guitar, Mick Albeck on fiddle, and Michel Rose on steel guitar. My contribution was to romp through the songs with some old-timey style harmonica, which I did with relish.
Donna Fisk came to Sydney in June for her annual appearance at Canterbury Country, but this time she was accompanied by her father, Gene Bradley Fisk. They were a hit at the concert, individually and together. The next day, not wanting to miss an opportunity, I recorded them in my studio. Our efforts sat 'in the can' for quite a while, but eventually Fisk, Fisk & Howe had an airplay hit in 2017 (more of that later). Here we are, pictured below, taking a break from recording, on what was a cool day at Bondi Beach…
September brought another new experience, this time a concert with dance music-orientated singer/songwriter Robby Antonio. As part of his Kingdom of Lights Tour, Robby produced a concert at NIDA (National Institute of Dramatic Art) in Sydney, an establishment I had driven past innumerable times but until now, never worked inside. The show featured original music with a light show and dancers, but my participation was for a contrasting quieter interlude where I provided live guitar for Robby's soulful vocals. He was happy to receive the best reviews of his career to date, notably for the acoustic section.
It had been a year of 'big' birthdays for my friends; Leon Isackson had turned 70, Kenny Kitching had turned 80 and in December, Geoff Mack celebrated his 90th. Shortly after that party, I spent my birthday with Karen in Dunedin, New Zealand again. This time we were headed to the Oosterdam for Christmas and New Year, meeting some of our oldest friends in different ports along the way, and staying on the ship all the way back to Sydney. On the last night for the Variety Show, after solo spots, I joined fellow Sydney performer, pianist Paul Cincotta (pictured below) for a rousing version of Great Balls of Fire as the finale to the cruise…
At the 2013 Tamworth Country Music Festival, the Tomkins Late Night Honky Tonk band were still standing after ten consecutive nights working on the midnight shift at Wests (well, 11.30pm to 2.15am to be accurate)! Pictured below, L to R: Bob Howe, Terry Phillpot, Damien Odell and Allan Tomkins.
As well as the Tomkins shows, I played the Country for Lifeline benefit again, plus two appearances with Wayne Horsburgh; his joint concert with bush balladeer Graham Rodger at the Tamworth Community Centre, and later that same day in the Town Hall for the Australian Bush Laureate Awards. There, Wayne sang a new vocal version of my tune Diamantina Yodel.
The previous month Wayne had released a new album, Yodels and Love Songs, that I had produced for him. We came up with the idea of adding words to my instrumental Diamondtina Yodel (named after my guitar) and renaming it the Diamantina Yodel (after the Diamantina area in Central West Queensland). I began writing the lyrics, but realised I needed help with someone who knew the district better than I did, so I sent a draft to my brother-in-law John Dalton.
Shortly after that, John was driving from Blackbutt to his home in Kingaroy (Queensland), when he had to stop for roadworks. From a previous encounter with this 'Stop/Go' traffic control, John knew he had about 20 minutes to kill, so he jotted down some lines to send back to me, not realising that his efforts were bound for Wayne's next album and would thereafter prove to be a popular number in Wayne's stage show.
Later in the Festival, Wayne received the highest honour in Australian Country Music, being inducted into the Australian Country Music Roll of Renown. He is now immortalised on the famous giant granite boulders, located outside the Tamworth Regional Entertainment and Conference Centre (TRECC). Pictured below are Frank Ifield, who was inducted himself in 2003 (and whose plaque is on the same boulder), myself and Wayne…

In March I had a great weekend at The Entrance in NSW, hosting the Memorial Park stage for the 2013 Central Coast Country Music Festival and getting to introduce so many of my friends. Later in the month I was back at my old stomping ground of Petersham RSL Club, but this time as a guest artist and part of the Back To The Tivoli variety show. This was just one of many shows I would perform during the 'summer' months, in-between numerous cruise trips. It was because I only sailed the Pacific and Indian Oceans and the Tasman Sea, not crossing over to the Atlantic or the Mediterranean, that my 'cruising season' would break (this year) at the end of April and begin again at the end of September, giving me a window of opportunity to concentrate on land-gigs.
In May the 150th Canterbury Country concert coincided with the show's 13th birthday. Later in the month, my dear friend Geoff Mack, having turned 90 the previous December, was now inducted into the 'Mo' Awards 'Hall of Fame' and the same night, Wayne Horsburgh was named the 'The Slim Dusty Country Act of the Year'.
In June I shared a bill with the wonderful Amanda Easton and in July with marvellous jazz singer Maree Montgomery. In September, due to a scheduling conflict on the usual Thursday night, Canterbury Country became a 'Saturday Night Special' for a one-off show featuring Anne Kirkpatrick (pictured left) and Toyota Star Maker winners Kaylee Bell and Luke Dickens.
At the end of the year I clocked up 40 years as a professional musician (which I mark from my 1973 Hilton Hotel contract, where I first met Geoff Mack), and played more 'Christmas Carols' with Kamahl (in Lidcombe) and Little Pattie (stompin' in Maroubra, where else?).
2014 began with a delightful surprise when I learnt I was to be inducted into the Australian Country Music Hands Of Fame along with Dianne Lindsay and Graham Rodger. I wasn't in Tamworth for the announcement at the Tamworth Town Hall, so my friend Wayne Horsburgh accepted the certificate for me.
Karen and I drove up for the actual ceremony which took place the following Saturday, 25th January at the Hands of Fame Park on the corner of Bridge and Kable Ave, Tamworth, NSW. The event was hosted by noted writer/broadcaster Jon Wolfe, one of the directors of the Australian Country Music Foundation. Myself, Graham and Dianne imprinted our hands in the cement and then inscribed our names with special wooden quills, handmade by Noel and Dawn Smith.
I was honoured to be permanently recognised as part of the Australian country music family and at the same time as Dianne and Graham. Dianne is the daughter of Reg Lindsay, who was an important of my country music career back in the seventies. Graham I had worked with only recently, but such is the size of my wife's family, it turned out Graham was cousin to my brother-in-law's wife Nerida, herself a big country music fan.
The 'Hands of Fame Cornerstone' (as it was originally called) began in 1977 when Tex Morton, Buddy Williams and Smoky Dawson were the first (simultaneously) to press their hands in the cement, closely followed by Reg Lindsay, Buddy Bishop, Rick & Thel, Slim Dusty & Joy McKean and many more.
I am so delighted to be included amongst all of these fabulous names and so many pioneers. As I walked around the park I reminisced, as I looked at many of the handprints of artists that I had played guitar for over the years. I numbered those up to 110 and then I lost count!
In the sixties, Australian lap steel guitarist Rob E.G. topped the charts with instrumentals such as Si Senor (I Theenk), Jezabel, and 55 Days at Peking. He went on to make vocal records, write songs, and act in several American television shows. By the time I took up the guitar in the early seventies, he was back in Australia and as Robie Porter, he became a leading hit-record producer (Daddy Cool, Marcia Hines, Tommy Emmanuel, Air Supply, Rick Springfield, Hush, Colleen Hewett and many more).
In February 2014, I was thrilled to invite Robie to the stage at Canterbury Country as a performer. Also that night, as a tribute to his original record production, Nicki Gillis and I performed our version of Rick Springfield's Speak to the Sky. Later, with Ben Ransom, who Robie introduced as his latest production project, we closed the show with Daddy Cool's classic Eagle Rock.
Six degrees of separation: Robie produced the original single of Eagle Rock, Ross Wilson (who judged Keith Glass and myself in a harmonica championship) wrote and sang the song, and Daddy Cool drummer Gary Young once sang with my Superpickers band in Melbourne. The promotional film clip for the song was shot on 16mm black-and-white film in 1971 by 23-year-old Melbourne filmmaker Chris Löfvén, who was later my fellow band-member (on bass) in the Keith Glass Band.
In April I had a fabulous experience, sailing from Perth in Western Australia to Mauritius in the Indian Ocean on board the Japanese cruise ship Asuka II. Fellow entertainer, accordionist Ross Maio and myself were the only 'western' performers on this leg of their world tour and we played to six-hundred Japanese-speaking audience members. Ross had the advantage of having learned his stage 'patter' in Japanese from previous visits to the ship, whereas I made do with some rudimentary phrases that the Cruise Director had supplied for me, and a lot of mime actions.
As well as our individual concerts in the theatre, we also played a deck-party for the guests and my wireless guitar unit was very useful as I roamed the deck and played on top of the covered hot tub. The audience received us warmly and the cruise staff treated us like long-lost friends. Having been thoroughly spoiled, I followed this by spending Easter on the Golden Princess, and then a mid-year trip on the Dawn Princess, marred by lost-luggage. More of that in Appendix A – The Cruising Years.

Canterbury Country reached its 14th birthday in May, a milestone to be sure, but most importantly, there was cake…
Bob Dylan returned to Australia in September and I decided to go at the last minute and caught his show from the back row of the Sydney Opera House. It was a dimly-lit stage and Bob sang from beneath a wide-brimmed hat with numerous microphones in front of him, although apparently some of them were just props. He was 73 by this time and did not disappoint. It had been a year for big name concerts – earlier in the year we had seen Dolly Parton and Bruce Springsteen on consecutive nights!
Being back on land gave me time to start a project inspired by my Hands of Fame induction, beginning with the release of two digital singles. The first was Donna Fisk singing Still In Love With You, a song recorded by Australian pop band Sherbet in 1977. It was co-written by keyboardist Garth Porter who was inducted into the Hands of Fame in 2000 for his work as a top country music producer (Lee Kernaghan, Colin Buchanan, Gina Jeffreys, James Blundell and many more). On hearing Donna's track, Garth told me it was "…a brilliant surprise…a great version". Here is the video for the song, shot by bigdogbites.

The other was my version of The Preacher, a late-fifties composition by jazz pianist Horace Silver. The inspiration for this choice was a 1963 B-side by guitarist Dave Bridge, former member of The Joy Boys. Dave was inducted into the Hands of Fame in 1992 for his work as a session guitarist on many country music records. This video shows the instruments I played on my version, plus snippets from my induction ceremony…
Speaking of The Joy Boys, they were the backing band for Australian pioneer rock singer-songwriter, musician and entrepreneur Col Joye. He began recording for Festival Records in 1959 and by the time I worked for that company in 1975, he had his own label ATA Records, which was distributed by Festival.
In October 2014, former employees of Festival Records gathered together for a reunion dinner at Ryde Eastwood Leagues Club in Sydney. It was a wonderful celebration of the company and its various recording labels that were a major part of the history of Australian music for decades.
Rock historian Glenn A. Baker gave an informative speech that highlighted the difference between the innovation of the independent Festival and its rival companies that were subsidiaries of overseas labels. Festival recording artist Normie Rowe made a passionate speech about the family spirit of the company and his thrill of watching his first 45rpm singles being manufactured on the vinyl pressing machines in the factory downstairs.
Col Joye spoke eloquently of his early hits on the label and in an impromptu performance at the close of the evening, played his ukulele and sang two songs, including his big Festival hit Bye Bye Baby. I was thrilled to accompany him on acoustic guitar. Congratulations went out to Meryl Gross and Vicki Eldridge and all concerned for organising this marvellous night, and to Peter Hebbes for a great job as Master of Ceremonies.
I played several shows at the 2015 Tamworth Country Music Festival including 3 guest spots at the Tomkins Late-Night Honky-Tonk (Wests Legends Bar), 2 surprise appearances Darren Carr's All Star Arvo (Sth Tamworth Bowlo), playing guitar for Wayne Horsburgh at Graham Rodger's International & Australian Award Winners Concert (Community Centre), leading the Allstars Band for Country Music Cares Concert (Tamworth Town Hall) and co-hosting the Tomkins Guitars Showcase (Wests Blazes Showroom).
Back in Sydney I celebrated Australia Day 2015 by playing to a capacity crowd with Wayne Horsburgh and Greg Hooper (pictured below) for the Love That Aussie Music show at Canterbury-Hurlstone Park RSL Club.

In March I released a new CD, The Silver Collection, which combined 10 newly-recorded instrumental tracks plus 15 bonus tracks revamped, remixed and remastered from previous albums that were no longer available. The new tracks ranged from Mozart (40th Symphony played à la Shadows) to Adele (Rolling In The Deep) and a jazzy instrumental of I Remember You. Upon hearing that, Frank Ifield wrote,
"Wait till you hear track eight which is a song mostly attributed to myself as being my greatest hit; but Bob will surprise you all, as he did to me, with a most imaginative version of I Remember You …it is sheer magic."
June was a sad month as my beloved Mum, Barbara passed away after fighting illness for many years. She had always supported me, through the early years of music, even when she would have rather that I'd kept on working in the bank ( a 'proper job') and not become a full-time entertainer. Eventually she had warmed to the idea though, especially when I ended up playing with 'stars' of her era such as Guy Mitchell and Frank Ifield, and she always shared the thrill of the awards I had won.
Mum was a great movie lover – especially those of Humphrey Bogart and John Wayne – so it amused her when I brought her this 'World's Greatest Mother' Oscar back from a stopover in Los Angeles. After her passing we had a joyous celebration and send-off for her with her many friends. As she would say, "the show must go on".
She would have loved the theme for the 39th 'Mo' Awards in July – A Night at the Movies – produced by Marty Morton. Peter Kenny led the band and I played guitar as we introduced every segment with a different movie theme.
In the following months there was the usual array of gigs and shows, with a few unexpected and unusual events. Anne Kirkpatrick invited me to be a judge in the Sydney Eisteddfod, for the country music category (sponsored by the Slim Dusty Organisation). It was interesting to see and hear the teenagers (and younger) from a performing arts background, tackling the genre. Also, the Hillbilly Heaven band returned to the Oyster Festival at Ettalong Beach, this time with Deadly Award-winning singer Sharnee Fenwick. We were lucky to have Sharnee along, as it was her last performance before she took a break to have her first child.
By now I was no longer chasing work on the ocean waves, preferring the consistency of land-based bookings, but there was still travelling to be done. Karen and I had never been to Japan, so we excitedly grabbed a week off in November to visit Tokyo. One day we had an expedition to find St Mary's Cathedral which we had read about. Not even knowing if it would be open, we were surprised to find a festival underway celebrating the 200th birthday of St. John Bosco. Looking inside the cathedral we chanced upon a full rehearsal by 20 bell-ringing schoolboys and 30 brass and percussion playing girls and a 30-piece girls' choir and we ended up spending an hour sitting in the pews, enjoying all their Christmas music. Superb!
Still on a Christmas theme, back in Australia I was honoured to be the guest artist at the War Widows' Guild of Australia (NSW) Christmas Luncheon, with talented pianist John Keating. It was held at the Sydney Hilton Hotel, and was my first gig at that illustrious venue since their major refurbishments.
My brother-in-law Joe and his wife Sandra came to Canterbury Country one night and I asked them where they were sitting in the auditorium. Joe said, "We are seated just behind Bob's Bevy of Beauties." "Where, I asked?" Joe took me into the room to show me. At that time, the audience used to reserve their places by putting coats or scarves on the table. One group of enterprising fans had laminated a number of reusable signs that had my picture and the slogan "Reserved for Bob's Bevy of Beauties" !!
Joe was a drummer in the family band when he was younger, so I introduced him to my drumming mates Leon and Terry and took this picture of them with Joe sitting at Terry's drum kit.
It was that night that I had brought my friends The Mighty Guys (Sydney Version) to Canterbury Country for a mock 'Battle of the Bands' called Hillbilly vs Rockabilly. It was a good excuse to share the night between my Hillbilly Heaven band and Leon Isackson, Alan Freeman and Brian Dean. It turned out to be a fabulous night.
Although I had worked many times with Brian, it was usually one of us on bass and the other on guitar. This time we briefly got to play guitar alongside each other. Commenting on this photo (left), audience member Michael Parsons wrote, "Country music has rockabilly on its knees but not for long…Rockabilly is soon back on its feet and lives to fight another day! And the winner is…The Audience!" 
Brian, Leon and Alan also play as The Leeman when they tour with pioneer of Australian rockabilly music Lonnie Lee. They performed each year at the Tamworth Country Music Festival but at the last minute, Brian wasn't able to appear with them for their week of shows in January 2016. I wasn't planning on attending the festival that year, but was happy to step in at short notice and help out. We played seven shows at the Tamworth Services Club (pictured below) followed by a rockin' good night at the Wallsend Diggers Club, to a sold-out crowd on the way home. It was great to play Lonnie's hit songs Ain't It So, Starlight Starbright and I Found a New Love.
Canadian-born guitar legend Redd Volkaert was a successor to my hero Roy Nichols in Merle Haggard's backing band, The Strangers. Redd was on a return visit to Australia and had played the Tomkins Late Night Honky Tonk during the Tamworth Festival and was still here for Australia Day. At a private party in Sydney (thank you Dennis & Vivien), Redd performed with Allan Tomkins on bass, Brad Bergen on drums, and steel guitarist Michel Rose. Nicki Gillis was the other musical guest, so I played guitar for her and then relaxed and watched at close quarters as Redd played. Terry Phillpot was on sound and he made an excellent recording of the gig.
Promoter and agent Bob McKinnon called me to ask if I could do a country music 'tribute' as part of a show that also featured a 'Dolly Parton' (Dorathy Cooper) and a 'Johnny Cash' (Greg Hayes) salute. When I suggested I could do a 40-minute tribute to the legendary Buck Owens and his Buckaroos, Bob booked me for the concert at Club Central Hurstville in Sydney. I based my performance around the Buck Owens Live at the Sydney Opera House album and his two seventies Australian hit singles Made in Japan and (It's A) Monsters' Holiday. The show was very well received, especially when I told a story that indirectly connected my guitar to Buck Owens himself.
In 1975, Buck's local record label, EMI (Australia), decided to create an alternate version of his LP that would be called Weekend Daddy, different to the U.S. release. The art department decided they needed a photo of a very young girl holding a doll and a guitar. As luck would have it, Allan Tomkins was on hand and before long his daughter Leanne was posing for their photographer with a guitar and a doll. Somewhat later, Allan met Buck, had him sign a copy of the LP and introduced his little girl to the star. Fast-forward to the present, and I'm playing Buck Owens songs on my Tomkins custom made guitar. Pictured below are the 1975 Australian front and back LP covers plus Leanne, all grown-up in 2016 with her own Daddy's guitar…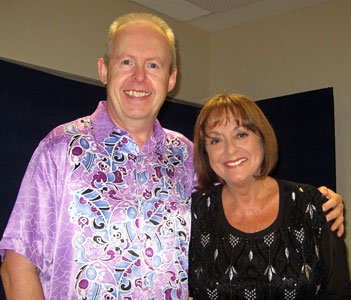 April brought a new bunch of gigs including celebrating St Patrick's Day at Dooleys in Lidcombe with The Trojans band plus guests Patrick Brady and his Irish Dancers. For Seniors Week at the Guilford Leagues Club I provided the sole accompaniment for Gold Logie-winning television presenter Denise Drysdale.
Australians know her affectionately as 'Ding Dong', a nickname invented by fellow performer Ernie Sigley when Denise was the 'barrel girl' on his TV show. Denise was now in Sydney filming regularly as co-host of the Studio 10 television show. Her occasional club appearances featured a candid and very humorous Q&A session about her eventful life, interspersed with songs that included the 1974 Ernie & Denise chart-topping single Hey Paula. Later I would accompany Denise on two more shows that also included original member of Les Girls and 'Queen of the Cross' – the wonderfully extravagant Carlotta.
It was my honour on the Mother's Day weekend in May, to direct the band for my old mate Frank Ifield as he performed his autobiographical show Frank Ifield Remembers at The Seymour Centre in Sydney and The Joan Sutherland Performing Arts Centre in Penrith. The show also featured yodeller Wayne Horsburgh, chanteuse Nicki Gillis and Brodie Miles as the 'Young Frank'. The show is a musical journey, beginning with Frank's birth in Coventry during the blitz and his family's return to their homeland of Australia. It continues with his early career as a hillbilly recording star which included hosting Campfire Favourites, the first weekly 'Western' programme by a local artist on Australian television in 1956…sixty years earlier. Naturally, the centrepiece of the story is Frank's subsequent return to England, becoming first UK-based artist to reach No. 1 three times in succession on the UK charts.
For me, 34 years after first working with Frank and 32 years on from becoming his Musical Director, it was a thrill to be sharing the stage again with a pop music icon and a dear friend.
For the June 2016 Queen's Birthday long weekend, The Tomkins Guitars All-Star Honky-Tonk Band were at the Lions Den Hotel in Far North Queensland. We flew to Cairns and then travelled the remaining 300km north to Rossville, through the national parklands. The historical hotel with its wood and iron construction and its adjacent camping ground, is a popular stop for travellers of the Cape York Peninsula and famous for its quirky decorations and walls adorned with visitors signatures.
Allan Tomkins, Terry Phillpot, Anthony Taylor and myself had played there the previous October, but this time we had extra vocal support from Anthony's talented wife Sarah. As before, we made the short trip north to visit Cooktown, where James Cook beached his ship, the Endeavour, for repairs in 1770. The first time, we enjoyed the memorable museum and on this trip, we were treated to a parade in honour of the weekend's festivities. We also ran across fellow Tomkins guitar player Allan Caswell, who happened to be performing on the stage in town.
October saw another CD release of my own, Act Naturally, – this time a more vocal collection. It contained 26 Country and Western Classics (21 songs and 5 instrumentals), and included duets with Wayne Horsburgh and Nicki Gillis, a duel with pianist Greg Hooper, and a 'trio' with Gene Bradley Fisk and Donna Fisk. Not content with having been a co-writer on Wayne's last album, my brother-in-law John Dalton showed his versatility by taking the cover photos for this CD. The album proved very popular with audiences, especially as a package with The Silver Collection which was mostly instrumental tracks.
John Dalton and his wife Therese were in Sydney for the December Canterbury Country concert, and were in the audience along with my wife Karen, niece Emma and husband Michael, Emma Hannah, Frank Ifield, and Wayne Horsburgh (who joined me for a live rendition of the duet Bye Bye Love from the new album). Nicki Gillis and the band were onstage and joined by my old friend Kenny Kitching on dobro, who I had worked with for thirty-six years at this point.
Leading the guests for the night was my dear friend Donna Fisk, up from Victoria especially for the gig. Little did I know that – in honour of my impending sixtieth birthday – she would ambush the show to make me, and the audience, watch a video montage that she and her partner Allen had put together. It contained video snippets of us from the early eighties when we were both younger and I had a lot more hair, plus a greeting to me from her Dad, Gene Bradley Fisk. To conclude the segment, Karen appeared with birthday cake and the audience sang to me for a change. It was lovely to mark the occasion with so many friends and family in attendance, plus of course 350 audience members who were loyal followers of Canterbury Country. Pictured below, Kenny, Donna and myself…
For a while now, I had been doing lots of gigs with powerhouse singer Tony Hogan. This encompassed several production shows such as the self-explanatory Sounds of the Sixties and also Tribute to the Troops which featured music associated with World War Two through to the Vietnam conflict. Tony also fronted two other outfits, the highly acclaimed showband The Zips and also Hogan's Heroes, both of which had been nominated for Best Dance Showband at the previous year's 'Mo' Awards. During that year we had worked together all over the state of NSW and also played at The Reef Hotel Casino at Cairns in Far North Queensland. That show included comedian and former-Womble Morgan Kent. We would return to Cairns again in October 2016 by popular demand.
Pictured below, ringing in the New Year (2017) with music and laughs – the sixties show at Matraville RSL Club in Sydney.
L to R: Bob Howe, Graeme Fisher (drums), Tony Hogan (vocals and guitar), Barbara Montgomery (vocals), Rick James (keyboards), Michael Agosti (bass).
For Australia Day 2017 at Canterbury-Hurlstone Park RSL Club, I created a 'Celebration of Australian Songs & Singers'. Joining me (pictured left) were Nicki Gillis and Greg Hooper plus drummer Malcolm Hamerston. We performed a wide range of songs, from early traditional days through to classic Aussie pop and rock. To complete the celebration, Greg Hayes gave us his Tribute to Slim Dusty. 
The Hartwood Campfires & Country Music Festival is held every Easter at Hartwood, a 1680-acre property on the Coolah-Gunnedah Road in central New South Wales, just the other side of the Black Stump. On Good Friday 2017, the festival began with Wayne Horsburgh's 'Love That Country Music'  show with special guests myself & Greg Hooper. A permanent well-appointed stage had been erected, with a cabin behind it for the artists to use as a dressing room. The audience – mostly senior holidaymakers affectionately known as 'grey nomads' – filled the property with their caravans and then set their folding chairs up near the stage area, although being a very hot day, they had chosen to sit back in the shade of the trees.
Armed with my wireless guitar unit, I was able to go down to greet them while playing an instrumental tune. Wayne took this photo (below) of that moment from the stage. I spent the entire interval signing CDs for the audience, leaving the big queue with a promise that I would return after the second half of the show. Even then, I ran out of albums and had to take down details for mail-orders. Returning to the nearby motel in the evening, we had supper with the crew and a singalong with Tania Kernaghan, Rodney Vincent, Hank Koopman and Donna-Marie who had just arrived to be part of the next day's line-up.

In April, the closing track from my Act Naturally album was released as a single under the name of Fisk, Fisk & Howe. It was perhaps the first multi-generational, mixed-gender version of Jimmy Webb's brilliant song, The Highwayman. The artwork (pictured left, by bigdogbites) was a scarabaeus representing the more metaphysical aspects of the song's lyrics.  Gene Bradley Fisk, his daughter Donna Fisk and myself each sang a verse and shared the last stanza between us. In Australia, it spent an incredible eighteen weeks on the Country Tracks Chart, peaking at #4. 
Later, in the special Top 40 Country Tracks Chart for 2017, the track was was #11 overall for the year AND the #1 most-played in the Group/Band category!
A couple of months later, Wayne and Greg and myself were on the road again. First to the NSW/Victoria border for a fantastic show as part of the Corowa Country Music Roundup, and then further south to Swanpool. This was the area where Wayne grew up and he first sang at the Swanpool Hall at the age of eight! The hall is now also home to a wonderful local cinema and 'Love That Country Music' played there to a sold-out crowd and a rousing homecoming reception for Wayne. Pictured below, Wayne, myself and Greg in front of the Swanpool Uniting Church near Lima (where Wayne was raised on a dairy farm). It was featured on the cover of Wayne's The Old Country Church album which I produced with Michael Vidale (photo by Phil Keast).

I finally recorded Nicki Gillis singing In The Daylight, many years after we wrote the song together in the UK. The track was released for airplay in the UK and Europe and in October spent three weeks at #1 on the Hotdisc chart! Here is the excellent video produced by Fikri Films…
Wayne, Greg and myself were booked to perform a morning show in November at Twin Towns Services Club (where I had played on my wedding night). By complete coincidence, it fell on the very day of Karen and my 25th Wedding Anniversary! It was naturally time for a party, so Karen and I went up there a few days early. We were treated with daily visits from Karen's family and our friends who came to join in the fun. The festivities culminated on the day of the anniversary and the concert itself, that was huge success. I left Karen there to celebrate for a few more days as I had to fly back to Sydney that same day, in order to be ready for another show the next morning…
It was with legendary Australian rockers Lucky Starr and Roland Storm. They had been appearing with fellow 'Bandstand' show star Bryan Davies under the banner of the Golden Boys of Aussie Rock 'n' Roll. Bryan had recently retired from live performances, but the lads were due to perform at the Joan Sutherland Performing Arts Centre in Penrith. Roland invited me to fill Bryan's spot and, as I had worked with Lucky since the late seventies and later with Roland in the eighties, it was a privilege for me to share the concert stage with them again.
I was a little apprehensive as to how the audience would accept me, having booked their tickets well in advance expecting to see Bryan on the bill. Finishing my first solo number in the show, I was overwhelmed by the enthusiastic and warm reception from the sold-out crowd. In the following years, as well as the usual separate gigs with Lucky and Roland, I was fortunate enough to be their 'third man' a few more times and it was always a rockin' good time.
On 30th November 2017, Frank Ifield celebrated his 80th Birthday with a party on-board the Rhythmboat, cruising Sydney Harbour. It was a star-studded affair attended by Judy Stone, Rob E.G., Frankie Davidson, Glenn A. Baker, Graham Webb, Benny Elias, Nicki Gillis, Wayne Horsburgh, Tommy Moeller from Unit 4 + 2 and Alan Lancaster from Status Quo, to name just a few!  I was delighted to deliver one of the speeches and told anecdotes from my first meeting with Frank in 1982, becoming his Musical Director in the U.K. in 1984, through to the current day. As you can see in the photo (below right), Frank was royally amused…
| | |
| --- | --- |
| | |

Wayne Horsburgh, Greg Hooper and myself had played many concerts during the year, including a marathon trip to the Port Pirie Country Music Festival in South Australia, that also included shows in Moonta, Hindmarsh Valley and Nhill. At Christmas time, we revived our seasonal country music show for some out-of-town performances. All three of our surnames begin with the letters 'Ho' – what else would we call it but Ho, Ho, Ho.
2018 began with another full line-up of gigs, including an Australia Day concert at Canterbury-Hurlstone Park RSL Club with Greg Hooper at the helm and Aussie icon Lucky Starr as the guest artist.
In February, I drove 160km down the South Coast to play at the Nowra Show with The Wizzcatts – old mates Merv Dick (drums) and Woody Finlayson (guitar). They had asked me to fill-in on bass and while I was always happy to play with them, I took into account that it was an afternoon gig with an early finish. That was good because the next day I needed to be 337km north of there by noon for a show. Best laid plans…
During the drive to Nowra I got a call from Merv who had just received a message from the sound technician at the St. Georges Basin Country Club (another 30km south of Nowra) where the scheduled support act for their night show had just cancelled and "…could we help them out?"
Yes, we could, but first to the Nowra Show where our support act were the dog trials and we played on the back of a truck. Several dedicated dozen rock 'n' roll dancers strutted their stuff on the grass in front of us and it was a pleasant afternoon at the agricultural style 'show', rounded off by a welcome ice cream in the shade.
Arriving at the unscheduled evening gig, we found the club heaving with fans of classic Aussie rock band Mental As Anything, waiting for their heroes to appear. Although we weren't the opening act that the audience expected, Merv and Woody rose to the occasion and quickly won the crowd over and the room was singing along in full party mode. We rocked out at full concert volume (yikes!) and I was grateful to Mental's bassist Peter Gray for letting me use his monster bass rig to play my Tomkins bass through (and for taking this photo). I would have liked to have stayed and watched more of the headliners (fronted by Greedy Smith) than I did, but I was keen to get home and get a few hours sleep so I headed off, only to be hampered on my journey by a severe electrical storm and torrential rain.
March gigs included…a march! The 25th Annual Allied Forces and Nashos' Reunion (National Servicemen's Association) took place in the northern New South Wales town of Moree and Little Pattie was a special guest at this year's event. As well as performing at the dinner dance, Little Pattie (in a jeep) led the march through the town, followed by the Nashos and Allied Forces personnel, the Moree Caledonian Society Pipes and Drums Band and many more.
The organisation looked after us wonderfully during our two-day stay, although I was lucky to be there. The morning that the band caught the only flight of the day to Moree, there were roadworks and unexpected diversions at Sydney airport. Potential plane passengers could be seen getting out of vehicles in the road and walking the last couple of kilometres to the terminal. I made it just in time, with Pattie standing by at the gate.
The March Canterbury Country show coincided with 'International Women's Day' and below is a group of our loyal supporters celebrating that fact! Suzy, Virginia, Barbara, Mary, Liz, Diane, Rhonda, Evelyn, Cheryl, Isabelle, Rena, Jan, Suzanne, Lindy and Diane. (Photo by Michael Parsons)
July brought another solo CD release, Now Showing, containing a selection of 'Great Movie & TV Themes' and songs featured in many films and shows. A few tracks had obscure connections, so I listed all the sources on my website. The disc contained 21 instrumentals and 3 songs, made up from 17 newly-recorded tracks plus 7 bonus tracks revamped, remixed and remastered from previous (out of print) albums.
I indulged my love of TV shows from my childhood (Doctor Who, Batman) and my passion for the music of Ennio Morricone and spaghetti westerns (The Good, the Bad and the Ugly for which I created my own male voice choir using overdubs). While my stage show often contained a harmonica version of the hit instrumental Il Silenzio, I chose to record the original arrangement by Morricone, The Funeral as heard in the movies Il Ritorno Di Ringo (1965) and American Sniper (2014). As always, I most enjoyed working on the arrangements, blending the title theme from Midnight Cowboy with the song from the movie, Everybody's Talkin', and closing the CD with a medley of Song For Guy / Layla (Part 2) / Going Home.
For many years I had swapped gigs with a fabulously talented singer/guitarist named Chris Connolly. He had played in many of Raddy Ferriera's bands and Chris was also the mid-week guitarist at Petersham RSL Club while I played the weekends. He was always in huge demand and I would fill in for him now and again with the Graeme Fisher All Stars Show Band.
Now Chris was featured in a new production show called 70s Unplugged and Electrified! starring multi-award-winning theatrical and variety performer Stephen Fisher-King and also featuring dynamic vocalist Jo Elms. With Stephen, Jo and Chris on guitars fronting the six-piece band and Lindsay Fisher providing a witty and nostalgic multi-media display, the show captures the vibe of the seventies through the music of America, Fleetwood Mac, The Eagles and so much more.
It would go on to win the 2019 ACE Award for Best Production Show. My first performance with the show (pictured here) filling in for Chris was at the SunPAC theatre in Brisbane before a sold-out audience in August 2018. It was a thrill to be part of the gentle three-part vocal harmonies of Sister Golden Hair and then to rock out on Hotel California and Stairway To Heaven – a tune I had been waiting 47 years to play on stage!
Always a land of climactic extremes, Australia was continuing to experience severe drought. During September 2018, I was privileged to perform for ten days in a row at the Pacific Square Maroubra shopping centre as part of the Dam Good Drought Relief campaign. My job was to regale the crowds with an ever-changing selection of country music favourites to draw attention to the fund-raising efforts. In total, Maroubra shoppers donated $8,903.40 which Pacific Square dollar matched to donate a total of $17,806.80. 100% of funds went to the Rural Aid Australia 'Buy a Bale' initiative, providing farmers with much needed support. Nationally across nineteen Charter Hall Shopping Centres, the campaign raised $172,000 to be donated to Aussie Farmers.

As the gigs continued towards the end of the year, I performed again with the Golden Boys of Aussie Rock 'n' Roll. During the year I had a hand in producing and compiling albums for both Lucky Starr and Roland Storm – Most Requested Songs and Come Go With Me respectively.
In January 2019 I played again at at the Joan Sutherland Performing Arts Centre, this time with the 70s Unplugged and Electrified! show. This was followed by a night with that same show at Club Central Menai. My niece Emma organised a party of her friends from the nursing profession to come to that show, even though they were far too young to remember the seventies. Spurred on by her madcap enthusiasm, they would run to the front of the stage and scream whenever I played a solo. What a hoot!
Soon it was Australia Day again and another weekend of celebrations at Canterbury-Hurlstone Park RSL Club in Sydney. On the Saturday, I played in the Greg Hooper All-Star Band (Greg, Peter Gray, Merv Dick and me) in a concert that included Australian music icon Little Pattie.
After she had wowed the crowd, the band went back on to play more local hit songs. I was singing a hard rock version of Boys In Town when I realised Pattie was cheering me on from the wings. That song was originally recorded by the band Divinyls, fronted by her late cousin and star in her own right, Chrissy Amphlett.
The next afternoon, Australia Day itself, I returned for an acoustic duo session in the club's lounge, sharing the vocals with Aimee Hannan, while people posed with a live koala in the club foyer. Already known to the Canterbury Country crowd, the previous year Aimee had appeared in the television show The Voice, being one of Team Delta's top twelve.
When February's Canterbury Country fell on Valentine's Day it was a no-brainer to have a dance night for all the romantics in the audience. By now, the show was attracting as many people who came just for the dancing as it did those who wanted to hear country music. On this occasion I brought in the popular local group The Western Distributors to share the night with my Hillbilly Heaven band. This meant double duties for fiddler Clare O'Meara who was a member of both bands. The finale brought the two bands together as a 14-piece supergroup! Pictured below L to R: Bob Howe, Kenny Kitching, Clare O'Meara, George Washingmachine, Allan Tomkins, Cathy Wearne, Guy Donnellan, Nicki Gillis, Andrew Travers, Ned Wu, Michael Vidale, John Kaldor, Tomi Graso and Terry Phillpot.
Over the years when Nicki Gillis toured the UK and Europe, her shows had included not only her own country music based material, but also some nostalgic theatre productions. One of the most popular was Carole King's Tapestry – The Concert. Initially I provided some of the written musical arrangements, but later when the show toured Australia, I sometimes played guitar in the band. The first half of the concert featured Songs Carole King Gave Away, often performed by versatile rock chick Suzy Leigh. The more intimate version of the show, Nicki Gillis sings Carole King was a versatile option for regional centres such as our July visit to Mount Isa. There we performed three times in the one day – a 'Morning Melodies' and a night-time concert at the Civic Centre, plus a lunch time spot at the Laura Johnson Home, for aged care residents who couldn't travel. Pictured below, Nicki and the band on another occasion at The Juniors in March 2019 (photo by Laura). 
I was back at The Juniors in April 2019 for a solo self-accompanied performance at a 'Senior's Morning Tea' hosted by the Federal Member of Parliament, Matt Thistlethwaite. The local seat of Kingsford Smith had previously been held by Peter Garrett, lead vocalist for the band Midnight Oil. On this day, my somewhat unusual brief was that while the Member did a meet-and-greet throughout the audience, I should quietly entertain the other portion of the crowd. One of those Seniors cajoled the politician into obtaining my details so they could book me for the Pagewood Senior Citizens Centre Christmas party, which he kindly did.
In May I returned to The Juniors for yet another show, this time with a huge band and cast. 1957 -The Show had originally been produced two years earlier for the 60th anniversary of The Juniors club. It was so popular that it was being revived for a third outing. As the title of the show would suggest it was a night of nostalgia, with the Williams Brothers paying tribute to the Everly Brothers, Paul Fenech as Elvis, Fallon as host and me, dusting off my Buddy Holly glasses once again. Here we all are with the Joseph Macri band and dancers, performing the finale number Johnny B. Goode. Naturally the guitar solo called for a duck-walk…
In June I played bass for fabulous vocalist Monique Montez at the Westin Hotel in the city centre, and played guitar for versatile multi-instrumentalist Danny Elliott's The Elton John Experience – having previously played for Danny's Peter Allen tribute show, Tenterfield to Rio.
For a further dose of nostalgia, I went to the Sydney Opera House to watch The Monkees Present The Mike & Micky Show starring Michael Nesmith and Micky Dolenz. I had seen three of The Monkees perform together years before at the State Theatre, but had never seen Mike Nesmith at all. This then, was a huge thrill, as I grew up with the band's music and subsequently collected all of the Michael Nesmith & The First National Band albums. His brand of country-rock music had been a huge influence on me.
Canterbury Country celebrated its 19th birthday with another star-studded list of guests; Wynonah Dove from the Blue Ridge Mountains of Virginia, USA (now based in Australia), singer/dancer/actress Alyssa Wilkins, and singer/songwriter and broadcaster Dan Mullins. The Hillbilly Heaven band had grown over the years and fiddler Clare O'Meara was now a permanent member (her touring commitments with John Williamson and The Bushwackers permitting). Regular guest musicians were Kenny Kitching on dobro and George Washingmachine on fiddle.
Virtuosity abounded when Clare and George were both on-board giving us that unique Western Swing twin-fiddle sound. Kenny's haunting dobro and Tomi's pedal steel guitar slid through plaintive ballads and lightning fast picking with ease. Allan Tomkins, the most solid and experienced bass-player in Australian country music kept us grounded, while drummer Terry Phillpot drove us along with his masterful beats. Add to this the versatile voice of the beautiful Nicki Gillis and we had a marvellous group of performers of which I was proud to be at the helm. The full line-up was now an 8-piece outfit, and that was before we added any guest artists each month!
In between our regular shows, we had a splendid day for the inaugural Canterbury Country Music Festival. Held throughout Canterbury-Hurlstone Park RSL Club on Saturday 7th September 2019 from 9.30am until well after midnight. The show featured Grace Amos, Uke & Singing Workshops, Bryen Willems & the Bayou Boogie Boys, a Bucking Bull, country-style cooking, Line-Dancing, Dan Mullins, NeillyRich, the Chill-Billy Session (Bob Howe, George Washingmachine, Tomi Graso, Allan Tomkins), Wayne Horsburgh, surprise guest Ross McGregor, Melinda Schneider and for the night-owls, the Tall Timbre trio.
In September, Nicki Gillis sings Carole King travelled to the historic NSW town of Braidwood and their grandly named National Theatre. The show was one of many that had been organised there by star of The Seekers and local identity Keith Potger. He even joined us onstage for a version of You've Got A Friend.
The following month there was a return visit to the Port Pirie Country Music Festival with Wayne and Greg, and more shows with 70s Unplugged and Electrified! Soon after that, a repeat performance by the Hillbilly Heaven Band with Nicki Gillis at the Brisbane Water Oyster Festival, still at Ettalong Beach but now on a stage that faced the main street, full of stalls and huge crowds.
Amongst the gigs in December was the last performance (to date) of the band How's That! at Burwood RSL Club for the Water Board Former Employees Christmas party. We had formed by accident a few years before when drummer Merv Dick asked me to join him for this same seasonal gig. At the last minute we decided we needed a bass player, so Alan Freeman was a natural choice for us. It was meant to be a loose arrangement, just for the day, but someone in the audience was a director of a different club. They liked us so much, they asked their entertainment agent to book us for their venue, so we quickly had to come up with a name and a publicity photo. The 'new' band went on to play two or three shows each year. Pictured below, Merv, me and Alan.
2019 finished with a repeat performance of the previous New Year's Eve at Campsie RSL Club, organised by the multi-talented Neil Hanson. It was a fun night with Neil, Rebecca Hayes, the band and the usual revelries at midnight. We were blissfully unaware of what the new year ahead had in store for us…